LOO-POUDREBEBE / 1064131
Lolo
Baby Powder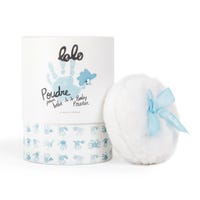 Baby Powder
LOO-POUDREBEBE
1064131
$18.99
Step 1 - Verify the availability in store of this product Step 2
In-store availability and reservation are not available for that product. Please add to cart, complete an online order and select ship to store to purchase this product.
Thank you !
You will receive an answer by email within 3 business hours.
(After this time, check your junk mail or contact the selected store.)
Continue shopping
This powder contains premium quality, natural ingredients providing properties that reduce moisture leaving baby's skin soft and dry. Thanks to its darling applicator, this soothing formula can be applied gently and with precision.

Features:
-After bath and at each diaper change, cover the applicator and apply the product onto baby's bottom and body
-An absorbent powder with antiseptic, antibacterial and healing qualities
-Contains amaranth our, well-known for treating skin irritations and redness
-Contains Provitamin B5 known for its anti-inflammatory and softening properties; it contributes to the repair of sensitive skin
-Contains Aloe Vera extract, rich in vitamins, amino acids, enzymes et proteins; an ingredient that softens and helps moisturize sensitive skin
-Suitable for use with cloth diapers as it contains no zinc
-Completely biodegradable
-Made With Care In Quebec
-Alcohol-free and phthalate-free, IFRA Certified

Ingredients: Maranta Arundinacea Root Powder, Manihot Esculenta (Tapioca) Root Starch, Kaolin, D-L Panthenol, Allantoin, Caprylic/Capric Triglyceride (and) Aloe Barbadensis (Aloe) Leaf Extract, Melaleuca Alternifolia (Tea Tree) Leaf Oil, Lavandula Angustifolia (Lavender) Oil, Parfum*
*Alcohol-free and phthalate-free, IFRA Certified
*Gluten Free
*Cloth diaper friendly
*Talc free
About the brand
Developed with care in Quebec with La Belle Excuse olive oil, the Lolo range of body products is a guarantee of quality. Entirely natural, these products will moisturize and protect the skin with incredible softness.
FREE IN-STORE PICK UP
Free in-store pick up available in all Clement stores for orders over $30. A $5 handling fee applies for orders of less than $30. Orders will be delivered in-store within 3 to 10 business days. Please wait until you received an email notification indicating that your order is available for pick up before going in-store.
Orders will be kept in store for one month. After that delay, the order will be cancelled and refunded.
SHIPPING TO CANADA
Free shipping on orders of $100 or more. For all other orders, a $7 flat rate shipping charge applies. Orders are shipped by Canada Post. A shipping confirmation with tracking number will be provided once your order has shipped.
Standard Shipping*
2-7 business days*
Expedited Shipping*
1-4 business days*
*Standard shipping not available in some areas. If applicable, additional charges may apply.
*Additional charges may apply. Not available in some areas.
*Transit times are subject to change and are not guaranteed.
Please note that some items may be shipped via another carrier.
SHIPPING TO THE UNITED STATES
20$ flat rate shipping on orders shipped to the United States. Orders will be delivered by USPS. A shipping confirmation with a tracking number will be provided once your order has shipped. The recipient is responsible for all import taxes, duties and/or customs fees if applicable.
Exceptions: Furniture cannot be delivered outside of Canada.