KUS-EZ6000 / 1060045
Kushies
Aquasplash - Baby Bath Support Mermaid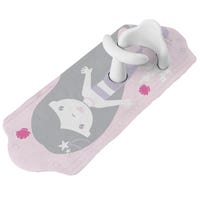 Aquasplash - Baby Bath Support Mermaid
KUS-EZ6000
1060045
$59.92
Step 1 - Verify the availability in store of this product Step 2 - Fill out the form to request for a 24-hour in-store free reservation
Reserve in store and product availability service is currently unavailable.
Thank you !
You will receive an answer by email within 3 business hours.
(After this time, check your junk mail or contact the selected store.)
Continue shopping
Features:
-T-bar and shaped back support help your baby sit up without slipping around
-Non-slip extra long bath mat
-An "hot spot" gives a quick indication of when the water is too hot
-Open sides allow easy access to wash your baby
-Easy to clean surface
-Must be removed from bath after each use and be well dried
-This product is suitable for babies that can sit up without assistance

Warning: Never leave a baby alone in a bath

Size: 15" x 35" / 39 x 89 cm

About the brand
Kushies designs and manufactures an innovative collection of quality baby products and accessories. The company strives for excellence in all areas to ensure its customers receive the highest quality products such as bibs, blankets, bedding and washcloths. Because of their continued dedication to service, they are trusted by moms since 1988
FREE IN-STORE PICK UP
Free in-store pick up available in all Clement stores. Orders will be delivered in-store within 3 to 10 business days. Please wait until you received an email notification indicating that your order is available for pick up before going in-store.
Orders will be kept in store for one month. After that delay, the order will be cancelled and refunded.
SHIPPING TO CANADA
Free shipping on orders of $100 or more. For all other orders, a $7 flat rate shipping charge applies. Orders are shipped by Canada Post. A shipping confirmation with tracking number will be provided once your order has shipped.
Standard Shipping*
2-7 business days*
Expedited Shipping*
1-4 business days*
*Standard shipping not available in some areas. If applicable, additional charges may apply.
*Additional charges may apply. Not available in some areas.
*Transit times are subject to change and are not guaranteed.
Please note that some items may be shipped via another carrier.
SHIPPING TO THE UNITED STATES
20$ flat rate shipping on orders shipped to the United States. Orders will be delivered by USPS. A shipping confirmation with a tracking number will be provided once your order has shipped. The recipient is responsible for all import taxes, duties and/or customs fees if applicable.