FUL-BC360BLACK / 1061934
Ergobaby
All Position 360 Baby Carrier - Pure Black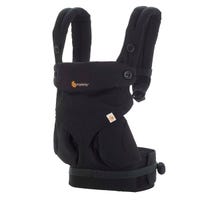 All Position 360 Baby Carrier - Pure Black
FUL-BC360BLACK
1061934
$179.99
Step 1 - Verify the availability in store of this product Step 2
In-store availability and reservation are not available for that product. Please add to cart, complete an online order and select ship to store to purchase this product.
Thank you !
You will receive an answer by email within 3 business hours.
(After this time, check your junk mail or contact the selected store.)
Continue shopping
Fabric: 100% cotton

Features:
-Gives parents the option of four comfortable and ergonomic ways to wear baby: Front-Inward, Front-Outward, Hip and Back carry positions
-New, supportive wide waistband and padded shoulder straps provide comfort and evenly distribute baby's weight
-Unique, structured bucket seat, baby will always be in an ergonomic frog-leg, seated position with her spine in an optimal "C" position
-Structured bucket seat keeps baby ergonomically seated in all 4 positions, with knees even to or above hips, with baby's spine in curved "C" position
-Button adjustments let parents adapt the seat width to the baby's size & position
-Exceptionally comfortable waistband can be worn high or low on the waist depending on preference and provides extra support for the low back
-Can be rolled down for front-outward, or upwards for the inward facing positions to provide extra head, neck and back support for baby
-Padded shoulder straps helps evenly distribute baby's weight in combination with the wide waistband to maximize parent comfort
-Sleeping hood provides support for baby's head while sleeping, protection from sun and added privacy while nursing
-Machine washable

Recommended use:
-Front/inward (with Infant insert, sold separately): from 0 to 4 months, and from 3.2 to 5.5kg / 7 to 12lbs
-Front/inward (whitout infant insert): from 4 to 24 months, and from 5.5 to 12.2kg / 12 to 27lbs
-On hip: from 6 to 24 months, and from 7.8 to 12.2kg / 17.2 to 27lbs
-On back: from 6 to 36 months, and from 7.8 to 15kg / 17.2 to 33lbs
About the brand
Ergobaby presents its famous baby carriers, that can be used from birth to 45 pounds in weight. With their ergonomic design and comfort for both you and the little one, these baby carriers are revolutionizing the way you transport your children by evenly distributing the baby's weight between your hips and shoulders. You will have the freedom to enjoy the big and small adventures of life, while keeping baby close by!
FREE IN-STORE PICK UP
Free in-store pick up available in all Clement stores for orders over $30. A $5 handling fee applies for orders of less than $30. Orders will be delivered in-store within 3 to 10 business days. Please wait until you received an email notification indicating that your order is available for pick up before going in-store.
Orders will be kept in store for one month. After that delay, the order will be cancelled and refunded.
SHIPPING TO CANADA
Free shipping on orders of $100 or more. For all other orders, a $7 flat rate shipping charge applies. Orders are shipped by Canada Post. A shipping confirmation with tracking number will be provided once your order has shipped.
Standard Shipping*
2-7 business days*
Expedited Shipping*
1-4 business days*
*Standard shipping not available in some areas. If applicable, additional charges may apply.
*Additional charges may apply. Not available in some areas.
*Transit times are subject to change and are not guaranteed.
Please note that some items may be shipped via another carrier.
SHIPPING TO THE UNITED STATES
20$ flat rate shipping on orders shipped to the United States. Orders will be delivered by USPS. A shipping confirmation with a tracking number will be provided once your order has shipped. The recipient is responsible for all import taxes, duties and/or customs fees if applicable.
Exceptions: Furniture cannot be delivered outside of Canada.