CR2-7000 / 1075380
Carriwell
Hospital Mesh Panties (C-section and Vaginal Delivery) 4-Pack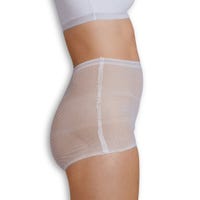 Hospital Mesh Panties (C-section and Vaginal Delivery) 4-Pack
CR2-7000
1075380
$23.99
Step 1 - Verify the availability in store of this product Step 2
To ensure the availability of the product, make a 24h reservation in store or directly contact the store.
You will receive an answer by email within 3 business hours.
Thank you !
You will receive an answer by email within 3 business hours.
(After this time, check your junk mail or contact the selected store.)
Continue shopping
Carriwell mesh panties allow you to discreetly and hygienically manage the period of bleeding immediately after childbirth. These washable mesh panties are specially designed to keep the protections in place during the first days after childbirth.
Features:
-Do not forget to put your Carriwell mesh panties in your maternity bag
-Holding: Specially designed to keep sanitary pads in place after birth
-Comfort: Excellent breathability for maximum comfort
-Softness: The light and pleasant fabric is perfect after a cesarean section because it allows the scar to breathe
-Recommended: Approved by many renowned childbirth specialists and hospitals
-Includes 4 panties
Fabric: 84% Polyester / 16% Elastane
About the brand
For over twenty years Carriwell have developed nursing and maternity underwear that makes breastfeeding and your maternity experience as natural, secure and comfortable as possible. They help women find their way on the journey of their lifetime: Helping you become the world's greatest mother to your child.
FREE IN-STORE PICK UP
Free in-store pick up available in all Clement stores for orders over $30. A $5 handling fee applies for orders of less than $30. Orders will be delivered in-store within 3 to 10 business days. Please wait until you received an email notification indicating that your order is available for pick up before going in-store.
Orders will be kept in store for one month. After that delay, the order will be cancelled and refunded.
SHIPPING TO CANADA
Free shipping on orders of $100 or more. For all other orders, a $7 flat rate shipping charge applies. Orders are shipped by Canada Post. A shipping confirmation with tracking number will be provided once your order has shipped.
Standard Shipping*
2-7 business days*
Expedited Shipping*
1-4 business days*
*Standard shipping not available in some areas. If applicable, additional charges may apply.
*Additional charges may apply. Not available in some areas.
*Transit times are subject to change and are not guaranteed.
Please note that some items may be shipped via another carrier.
SHIPPING TO THE UNITED STATES
20$ flat rate shipping on orders shipped to the United States. Orders will be delivered by USPS. A shipping confirmation with a tracking number will be provided once your order has shipped. The recipient is responsible for all import taxes, duties and/or customs fees if applicable.
Exceptions: Furniture cannot be delivered outside of Canada.